more about Veda
Spoken English Classes in Hyderabad
Welcome to Veda Spoken English, Hyderabad's premier Basic Spoken English training facility. Enrolling in our Basic Spoken English course at Veda Spoken English is the key to opening a world of opportunity for students and working people alike. Our accurate Spoken English course has been specifically crafted to communicate vital language skills that are required in today's competitive world.
Our English Speaking Course acts as a solid foundation for individuals looking to enhance their English proficiency. For students, it opens doors to improved academic performance and broader career prospects. For working professionals, it is the path to better communication, increased job opportunities, and career growth.
Course Overview
Module 1: Introduction to Our  English Speaking Course
 Recognizing the principles of English phonetics and pronunciation
Increasing vocabulary and acquiring crucial terminology for everyday use
Simple sentence structure and core linguistic concepts
Listening and speaking talents are developed through enjoyable exercises.
Module 2: Conversational English
Acquiring new vocabularies and idioms for use in conversation Improving pronunciation and fluency through directed speaking exercises
Enhancing listening skills with comprehension activities
Developing confidence to participate in a variety of social and practical contexts.
Module 3: Lessons in Effective Communication
Grammar and phrase constructions that are advanced

Increasing the consistency and clarity of spoken English improving your presentation and public speaking skills

Improving general communication skills for both personal and commercial contexts
Key Features in Our Spoken English Classes, Hyderabad
Expert Trainers in Our Spoken English Classes in Hyderabad: Our extremely knowledgeable trainers provide thorough guidance and assistance throughout your English language learning process.

Curriculum: Our carefully designed curriculum includes all of the fundamental aspects of spoken English classes to provide a structured and gradual learning experience.
 Interactive classes include: Improve your conversational skills by participating in interactive sessions, group discussions, role-plays, and speaking exercises.
Personalized Service: Take advantage of our small class sizes, which allow our trainers to give you one-on-one attention and consider your specific needs.
Our emphasis is on real-world language usage, giving you the knowledge and skills to communicate successfully in a variety of situations.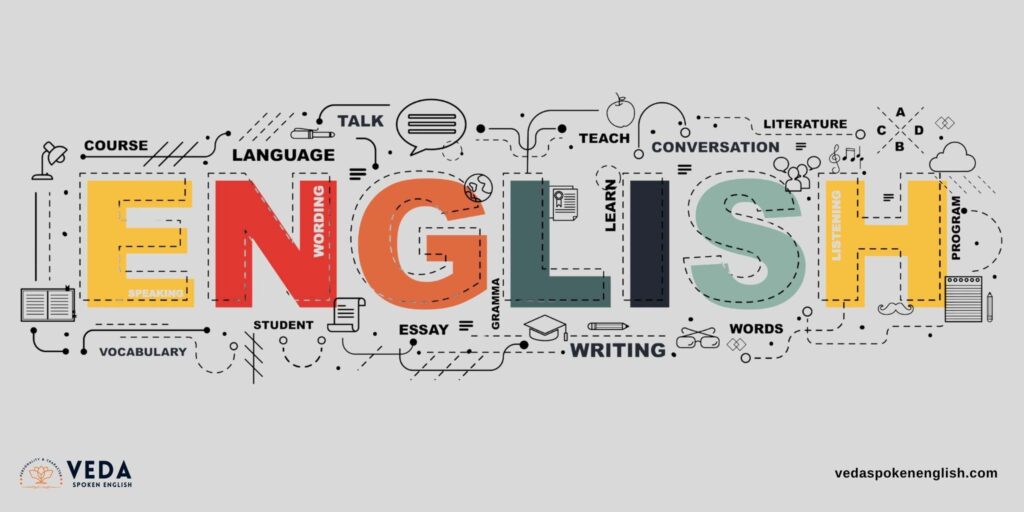 What Makes Veda Spoken English Institute Special?
Reputable Institute: Veda Spoken English is widely regarded as one of the best Spoken English institutes in Hyderabad.
Experienced Trainers: Take advantage of our experienced trainers' commitment to your language learning success. We place a strong emphasis on using the language in real-world contexts so that you can speak confidently when necessary.
Encouraged Learning Environment: Enjoy a welcoming, upbeat atmosphere that motivates you to continue learning a new English language.
Holistic Development: Our courses help you develop not only your language skills, but also your self-confidence and overall personality.
spoken english classes online
We also provide spoken english classes online to our students or working professionals. Our expert instructors deliver dynamic virtual classes, offering a flexible, interactive, and engaging platform to enhance your language proficiency. With Veda Spoken English, you have the advantage of learning from anywhere, at your own place.
Join our online spoken English classes and unlock a world of opportunities.
Join our extensive network of successful former students who have benefited from our spoken English classes by clicking here.
Begin by improving your spoken English. Enrolling in Veda Spoken English classes opens up a world of possibilities for education, employment, and personal development.
Please contact us right away to reserve your space
Your English fluency is just a click away
Our Students Testimonials
What people are talking about our English Coaching Centre
Lavanya Narayana
2023-06-17
Basically my level was zero before I joined here afterwards I got step by step more clarity about grammar part at present i am very clear about grammar and all the things, now I have more confident zero hesitation. Thank you veda
Classes are amazing way of traing is very good I have got fluency thank you veda
It is a real institue for spoken English for all students. I am satisfied and i reached to my skill and they taught me as I want. I lost stage fear, hesitation, instead I learned speaking and moved forward definitely I will become fluent. I have confidence. Thank you veda
Laxmikalyan Somavarapu
2023-06-01
Here spoken english course and the institute is very helpful for speaking english in the life,very supportive environment, staff and also encouraging. Limited students in the class and also individual focus I got here.nice veda
Very good experience in learning english,They cover practical,theritical,speaking part,different activities,general and well awared topics for all and individuals.thank you very much and I am grateful to the facility and institute.
miriyala nagendrababu
2023-05-16
Actually my speaking skills were very poor and after joining veda i learned basics, along with basics I moved ahead and learned conversations, vocabulary and many case studies.Thus I hope to become fairly fluent to perfectly fluent. I suggest veda everyone for great experience with english.
This is the best institute for the beginer, i have never seen like this institute, i have enjoyed a lot from each session, Every session is most valuble who really focus on each class thank you veda.